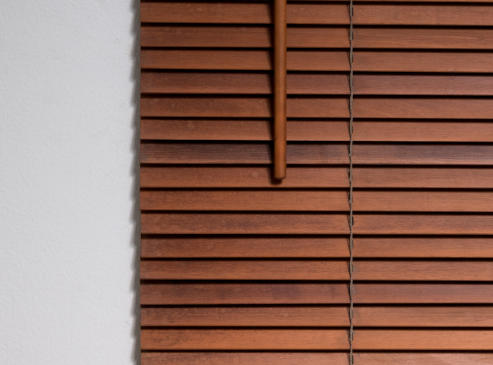 25 mm wooden blind
Żaluzje drewniane i bambusowe ze względu na zastosowane materiały naturalne oraz elementy wykończeniowe, tworzą jedyny w swoim rodzaju klimat wnętrza. Unikalne wzory oraz odcienie egzotycznego drewna i bambusa, jakie ułożyła sama natura, pozwolą zaprojektować niebanalną, elegancką przestrzeń. Występuje w obsłudze na sznurek i pokrętło.
Control
The 25 mm blind is available in 1 handling options:
– Cord and wand
The blind is manually lifted up and lowerd down by polyester strings, which are passing throug the cord lock that is located in the headrail. Moving the cords slightly to the center of the blind we can raise and lower the blind. Moving the cord back in the opposite side we can lock the blind on the desired position.
Tilting and setting of the slats on a requested position is operated by wand, that is connected to a tilt gear.
Rails
Szyna górna wykonana ze stali, formowana w procesie walcowania. Jej grubość szacuje się na 0,4 – 0,5 mm.
Wymiar listwy górnej: 25×25 mm
Wymiar listwy dolnej: 14×27 mm
Listwa maskująca ma wymiary: 32×6 mm (WxSz)
TYP LISTWY MASKUJĄCEJ = DŁUGOŚĆ LISTWY MASKUJĄCEJ
PROSTA = SZEROKOŚĆ ZALUZJI
Z JEDNYM BOKIEM = SZERKOŚĆ ŻALUZJI + 12 mm
Z BOKAMI = SZEROKOŚĆ ŻALUZJI + 24 mm
Wood is a natural product, which may react to temperature and moist conditions. We are not liable for slight shade changes or warping which may occur.
Measurements:
Min. widith: 260 mm
Maks. widith: 2400 mm
Maks. height: 2200 mm
Max. surface: 5,28 m2
Package sizes
Czym jest pakiet?
Żaluzja zbudowana jest z listwy górnej, dolnej oraz lameli. Gdy składamy żaluzje w celu odsłonięcia okna wszystkie te elementy składamy w jeden – to właśnie nazywa się pakiet. Przy decydowaniu się na żaluzje drewniane jest to bardzo ważny element. Określa on czy dana żaluzja zmieści się na oknie w taki sposób aby umożliwiała otwarcie okna.
Height of blind (cm): 100 150 200 250
Height of package (cm): 19,5 27,5 35,5 43,5
Textiles
Cords, thin ladderstrings and 25mm wide laddertapes are made in 100% from polyester, color-matched to the whole blind. Equal spaces between the spans in ladderstrings guarantee a perfect overlap of the slats and their closure.
Company address
Przedsiębiorstwo Szwedzko-Polskie Alucolor Sp. z o.o.
ul. Grunwaldzka 6
84-230 Rumia
NIP: 5830007778
Opening hours
Office:
Mon-Fri 8:00 - 16:00
Shop:
Mon-Fri 8:00 - 16:00
Saturday 10:00 - 15:00