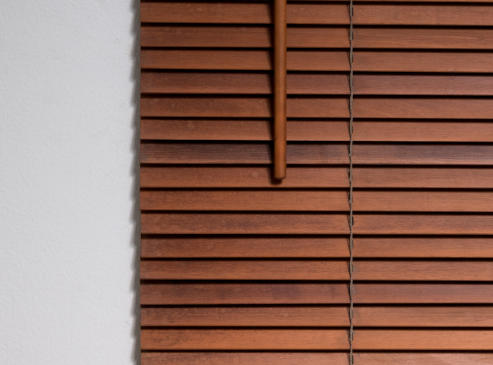 25 mm wooden blind
Wooden and bamboo blinds, due to the use of natural materials and finishing elements, create a unique interior climate. Unique patterns and shades of exotic wood and bamboo, arranged by nature itself, will allow you to design an original, elegant space. It is operated with a string and a knob.
Control
The 25 mm blind is available in 1 handling options:
– Cord and wand
The blind is manually lifted up and lowerd down by polyester strings, which are passing throug the cord lock that is located in the headrail. Moving the cords slightly to the center of the blind we can raise and lower the blind. Moving the cord back in the opposite side we can lock the blind on the desired position.
Tilting and setting of the slats on a requested position is operated by wand, that is connected to a tilt gear.
Rails
Steel top rail, formed by a rolling process. Its thickness is estimated at 0.4-0.5 mm. Top strip dimensions: 25×25 mm Bottom lath dimensions: 14×27 mm The cover strip has the dimensions: 32×6 mm (HxW) 
Wood is a natural product, which may react to temperature and moist conditions. We are not liable for slight shade changes or warping which may occur.
Measurements:
Min.widith: 260 mm
Width: 2400mm
Height: 2200 mm
Max. surface: 5.28 m2
Package sizes
What is a bundle? The shutter is made of upper and lower slats and slats. When we fold the blinds to reveal the window, we put all these elements together into one – this is what the package is called. When opting for wooden blinds, it is a very important element. It determines whether a given shutter will fit on the window in such a way that it allows opening the window.
Height of blind (cm): 100 150 200 250
Height of package (cm): 19.5 27.5 35.5 43.5
Textiles
Cords, thin ladderstrings and 25mm wide laddertapes are made in 100% from polyester, color-matched to the whole blind. Equal spaces between the spans in ladderstrings guarantee a perfect overlap of the slats and their closure.
Company address
Przedsiębiorstwo Szwedzko-Polskie Alucolor Sp. z o.o.
ul. Grunwaldzka 6
84-230 Rumia
NIP: 5830007778
Opening hours
Office:
Mon-Fri 8:00 - 16:00
Shop:
Mon-Fri 8:00 - 16:00
Saturday 10:00 - 15:00