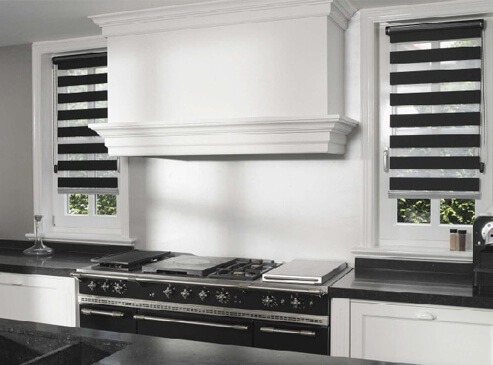 Day-night roller blinds
The day-night blind is a blind made of fabric with horizontal stripes – one by one transparent and untransparent fabric.
This structure, it is easy to regulate amount of incoming light into the room.
Modern window decoration whith function of venetian blinds, roller blinds and curtains.
ACCESSORIES
The colors of the accessories in the day / night roller blinds are: white, brown, anthracite, gray, silver, golden oak, walnut, mahogany, cherry, winchester and swamp oak. Additionally, you can use a metal chain.
MOUNTING
The blind can be mounted to the ceiling, wall, window frame or window recess.
OPTION
The day and night roller blind can be produced in a free-hanging version or in guides.
MEASUREMENTS
Min. widith: 300 mm
Min. height: 300 mm
Max. widith: 1500 mm
Max. height: 1300-2300 mm
Company address
Przedsiębiorstwo Szwedzko-Polskie Alucolor Sp. z o.o.
ul. Grunwaldzka 6
84-230 Rumia
NIP: 5830007778
Opening hours
Office:
Mon-Fri 8:00 - 16:00
Shop:
Mon-Fri 8:00 - 16:00
Saturday 10:00 - 15:00