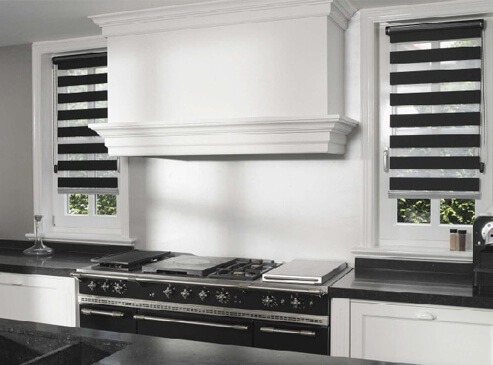 Day-night roller blinds
The day-night blind is a blind made of fabric with horizontal stripes – one by one transparent and untransparent fabric.
This structure, it is easy to regulate amount of incoming light into the room.
Modern window decoration whith function of venetian blinds, roller blinds and curtains.
OSPRZĘT
Kolory osprzętu w roletach dzień/noc to: biały, brąz, antracyt, szary, srebrny, złoty dąb, orzech, mahoń, wiśnia, winchester oraz dąb bagienny.
Dodatkowo można zastosować łańcuszek metalowy.
MONTAŻ
Roletę możemy zamontować do sufitu, ściany, ramy okiennej lub wnęki okiennej.
OPCJE
Roletę dzień i noc możemy wyprodukować w wersji wolnowiszącej lub w prowadnicach.
MEASUREMENTS
Min. widith: 300 mm
Min. height: 300 mm
Max. widith: 1500 mm
Max. height: 1300-2300 mm
Company address
Przedsiębiorstwo Szwedzko-Polskie Alucolor Sp. z o.o.
ul. Grunwaldzka 6
84-230 Rumia
NIP: 5830007778
Opening hours
Office:
Mon-Fri 8:00 - 16:00
Shop:
Mon-Fri 8:00 - 16:00
Saturday 10:00 - 15:00