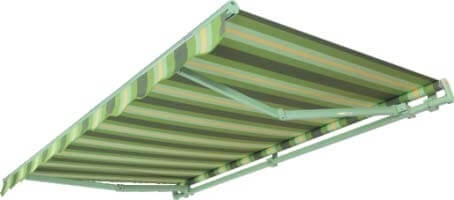 Classic awning
Your terrace is a special place where you get rest. It's your space. We presented the Jupiter EVO awning for you. Choosing this awning, you get an extended 5-year warranty and a higher-class quality. Perfectly cover even very large terraces. And a large number of additional options will give it a personal touch.
TECHNICAL INFORMATIONS
Classic aluminum structure with easy assembly on a galvanized steel beam. The awning blind is secured with varnish resistant to all-year-round external conditions. Stainless and galvanized screws. All mechanisms and covers are made of aluminum, with no external plastic parts. High wind resistance due to the use of aluminum alloy, such as in aircraft wings.
DIMENSIONS
Width from 220 to 1200 cm, projection: 150 cm, 200 cm, 250 cm, 300 cm, 350 cm and 400 cm. Tilt angle from 4 to 40 degrees. The recommended angle is 14 degrees.
INSTALLATION
For walls, ceilings or rafters.
ADDITIONAL OPTIONS
Roof protecting the cover – protects the fabric against dirt. The aluminum canopy, designed especially for the classic awning, covers the awning fabric when rolled up. Thanks to it, the fabric stays clean longer and is safe during the winter.
ROLLING FLOOR – VARIO VOLANT – works like a roller blind with an independent fabric, discreetly hidden in the front profile. The frill unfolds to 130 cm. It is perfect as a cover against the low setting sun. Drive by crank or electric motor.
GUARANTEE
5 YEARS – ON THE CONSTRUCTION OF THE AWNING 5 YEARS – FOR ELECTRIC DRIVES AND CONTROL SYSTEMS OF THE SOMFY BRAND 10 YEARS – ON DICKSON FABRICS   8 YEARS – FOR PARA BRAND FABRICS
Company address
Przedsiębiorstwo Szwedzko-Polskie Alucolor Sp. z o.o.
ul. Grunwaldzka 6
84-230 Rumia
NIP: 5830007778
Opening hours
Office:
Mon-Fri 8:00 - 16:00
Shop:
Mon-Fri 8:00 - 16:00
Saturday 10:00 - 15:00