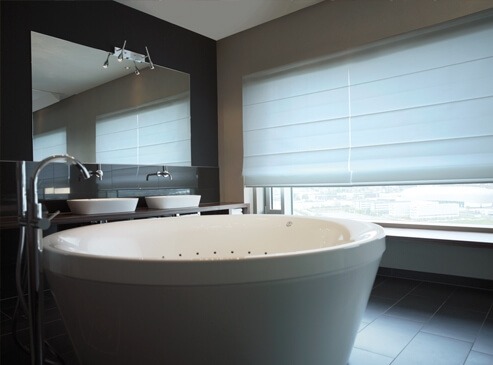 Roman blinds
Roman blinds perfectly fitted in home interiors, gain more and more popularity due to their undoubted aesthetic and functional qualities. Effective and elegant interior arrangement. That type of blinds is a better solution in rooms where there is no room for hanging traditional curtains.
We offer a variety of materials – from openwork to smooth and patterned.
When lifting, the Roman blind assamble into horizontal folds, so its great advantage is the ability to regulate the light. Openwork fabrics can be used, then the room is lit with soft light, creating a climate of warmth and cosiness. When using thicker fabrics, it will work like a traditional curtain.
Solid and aesthetic finishes ensure long-term and trouble-free use. For control we offer manual drive – bead, or electric – controlled by a remote control. It is possible to mount the mechanism to the ceiling or wall. Easy to keep it celan (water or chemical washing depending on the type of fabric).
MONTAŻ
Zasłona rzymska może być montowana zarówno do sufitu jak i do ściany korzystając z zaczepu typu Twist.
Do dyspozycji klientów istnieje jeszcze opcja montowania bezinwazyjnego.
OSPRZĘT
Osprzęt dostępny jest wyłącznie w kolorze białym. Listwa górna ma wymiary 37×32 mm (WxSz).
Dostępne kolory łańcuszków: biały, transparentny, szary oraz metalowy.
Package sizes
WYSOKOŚĆ ZASŁONY (cm) Do 100 Do 150 Do 200 Do 250 Do 300
Wysokość pakietu (cm) 22 230 240 250 260
MEASUREMENTS
Min. widith: 400 mm
Min. height: 600 mm
Max. widith: 3000 mm
Max. height: 3000 mm
Company address
Przedsiębiorstwo Szwedzko-Polskie Alucolor Sp. z o.o.
ul. Grunwaldzka 6
84-230 Rumia
NIP: 5830007778
Opening hours
Office:
Mon-Fri 8:00 - 16:00
Shop:
Mon-Fri 8:00 - 16:00
Saturday 10:00 - 15:00