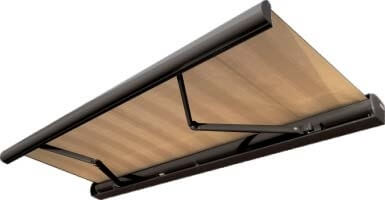 Full cassete awning
Let yourself be surprised by the amazing solutions that the new version of the Selene EVO awning. We closed the arms with a 3.5 m reach in an elegant 21 x 25 cm cassette! Spell completes the increased wind resistance. The fabric and arms are hidden in separate sections of the cassette, never touching each other. The cassette provides the fabric with purity while the awning is rolled up.
TECHNICAL INFORMATIONS
Cassette that protects the fabric and arms from dirt. After the awning is rolled up, the fabric and arms are secured in an aluminum cassette. The fabric is separated from the arms by an internal partition. Thanks to this solution, the fabric and structure will stay clean longer. The awning does not need to be dismantled for the winter. Aluminum structure with easy assembly on a galvanized steel beam. The awning is secured with a powder varnish resistant to all-year-round external conditions. Stainless and galvanized screws. The valance is available as an additional option at the customer's request. The fabric is secured in an independent chamber – when rolled up, the fabric does not touch the shoulders.
DIMENSIONS
Width from 225 cm to 1200 cm, projection: 150 cm, 200 cm, 250 cm, 300 cm and 350 cm.
Tilt angle from 4 to 40 degrees. The recommended angle is 14 degrees.
INSTALLATION
For walls, ceilings or rafters. GUARANTEE 5 YEARS – ON THE CONSTRUCTION OF THE AWNING 5 YEARS – FOR ELECTRIC DRIVES AND CONTROL SYSTEMS OF THE SOMFY BRAND 10 YEARS – ON DICKSON FABRICS 8 YEARS – FOR PARA BRAND FABRICS
Company address
Przedsiębiorstwo Szwedzko-Polskie Alucolor Sp. z o.o.
ul. Grunwaldzka 6
84-230 Rumia
NIP: 5830007778
Opening hours
Office:
Mon-Fri 8:00 - 16:00
Shop:
Mon-Fri 8:00 - 16:00
Saturday 10:00 - 15:00