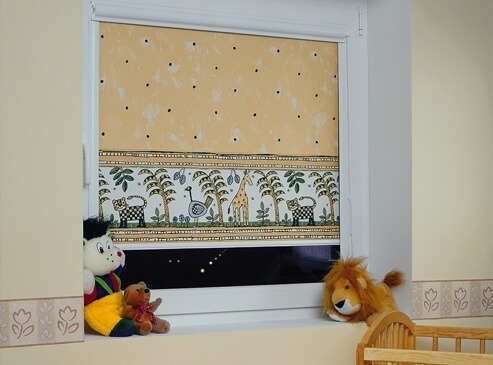 On-window roller blinds
Roller blinds in the cassette are an interesting solution for window shutters, tilt windows and balcony doors.
The system is made of high quality PVC (cassette and guides).
It is possible to install on a double-sided tape and on screws.
In offer we have a big, over 400 collection types of fabrics (over 400). Furthermore, we have transparent, darkening and light-scattering fabrics also.
OSPRZĘT
Kolory osprzętu w roletach naokiennych to: biały, brąz, antracyt, szary, srebrny, złoty dąb, orzech, mahoń, wiśnia, winchester oraz dąb bagienny.
Kaseta to okrągły profil górny o wysokości do 79 mm i szerokości 35 mm. Prowadnice mają grubość ok. 3 mm a ich szerokość to 33 mm.
Dodatkowo można zastosować łańcuszek metalowy.
MONTAŻ
Roletę możemy zamontować do ramy okiennej.
MEASUREMENTS
Min. widith: 300 mm
Min. height: 300 mm
Max. widith: 1400 mm
Max. height: 2400 mm
OPCJE DODATKOWE
ROLETA DACHOWA, funkcjonalna i skuteczna. Świetnie sprawdzi się na każdym oknie dachowym.
Osprzęt występuje w kolorach: biały, beż, srebrny. Możliwość zastosowania dodatkowo drążków sterujących o długościach 100, 150 i 200 cm.
Min. widith: 360 mm
Min. height: 300 mm
Max. widith: 1100 mm
Max. height: 1500 mm
Company address
Przedsiębiorstwo Szwedzko-Polskie Alucolor Sp. z o.o.
ul. Grunwaldzka 6
84-230 Rumia
NIP: 5830007778
Opening hours
Office:
Mon-Fri 8:00 - 16:00
Shop:
Mon-Fri 8:00 - 16:00
Saturday 10:00 - 15:00