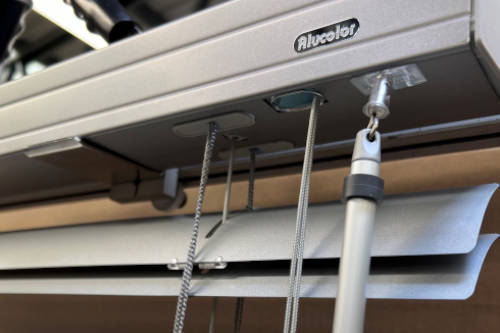 Megaview®
Żaluzja Megaview® wykonana jest z najszerszych lameli, które mają 50mm. Dzięki zastosowaniu specjalnych komponentów skok pomiędzy lamelami wynosi 84 mm (w standardowej żaluzji aluminiowej 50 mm jest to 44 mm). Przy otwartych lamelach ta różnica powoduje wrażenie 'podwójnego widoku' natomiast przy zamkniętych zapewnia nam pełną prywatność. Świetnie sprawdzi się na dużych oknach, szczególnie w domach lub pomieszczeniach biurowych.
Control
Megaview® blind is available in multiple versions options:
– Sznurek – pętla lub sznurek – dzwonki
Żaluzja podciągana i opuszczana jest za pomocą poliestrowych sznurków, które standardowo przechodzą przez znajdującą się w górnej szynie blokadę sznurka (tzw.zamek). Pociągając sznurek w kierunku środka żaluzji możemy podnosić lub opuszczać żaluzję na żądanej wysokości.
Dwoma sznurkami nawiniętymi na przekładnie, umiejscowioną w szynie górnej, sterujemy położeniem lamel – pociągając sznurki w jednym lub drugim kierunku regulujemy kąt otwarcia lub zamknięcia lameli.
– Cord and wand
The blind is manually lifted up and lowerd down by polyester strings, which are passing throug the cord lock that is located in the headrail. Moving the cords slightly to the center of the blind we can raise and lower the blind. Moving the cord back in the opposite side we can lock the blind on the desired position.
Tilting and setting of the slats on a requested position is operated by wand, that is connected to a tilt gear.
Rails
The rails are made of profiled and painted steel, available in 6 colors: white, silver, black, beige, brown and anthrazite.
The headrail has a measurement of 51×57 mm (HxW)
The bottomrail has a measurement of 18×52 mm (HxW).
Slats
The slats ( widith 25mm, thickness 0,21mm ) are formed form an elastic high-quality aluminium, which is given a convex shape.
Feature of the blinds:
– double painted,
– resistant to scratches, hit and bending,
– lightfast,
– long-lasting colors,
– resistant to rust and non-electrostatic.
Textiles
Sznurki oraz drabinki wykonane są w 100% z poliestru, które są kolorystycznie dopasowane do całej żaluzji. Drabinki dostępne są w dwóch wersjach: cienka drabinka sznurkowa oraz szeroka drabinka taśmowa (która ma 24 mm szerokości).
Variants
Side guiding
Using the steel wire, coated with silicone, drawn on both sides of the blind and fixed to the ground with a special holders, we secure the blind.
Mixed colors
Every Customer can project his own blind by choosing different colors of rails, slas and textiles and within the same slats- various colors.
Measurements
Max. width 4000 mm
Max. height 3000 mm
Min. width 350 mm
Min. height 400 mm
Package sizes
Height of blind (cm): 100 150 200 250 300
Height of package (cm): 17 21 25,5 30 34
Company address
Przedsiębiorstwo Szwedzko-Polskie Alucolor Sp. z o.o.
ul. Grunwaldzka 6
84-230 Rumia
NIP: 5830007778
Opening hours
Office:
Mon-Fri 8:00 - 16:00
Shop:
Mon-Fri 8:00 - 16:00
Saturday 10:00 - 15:00