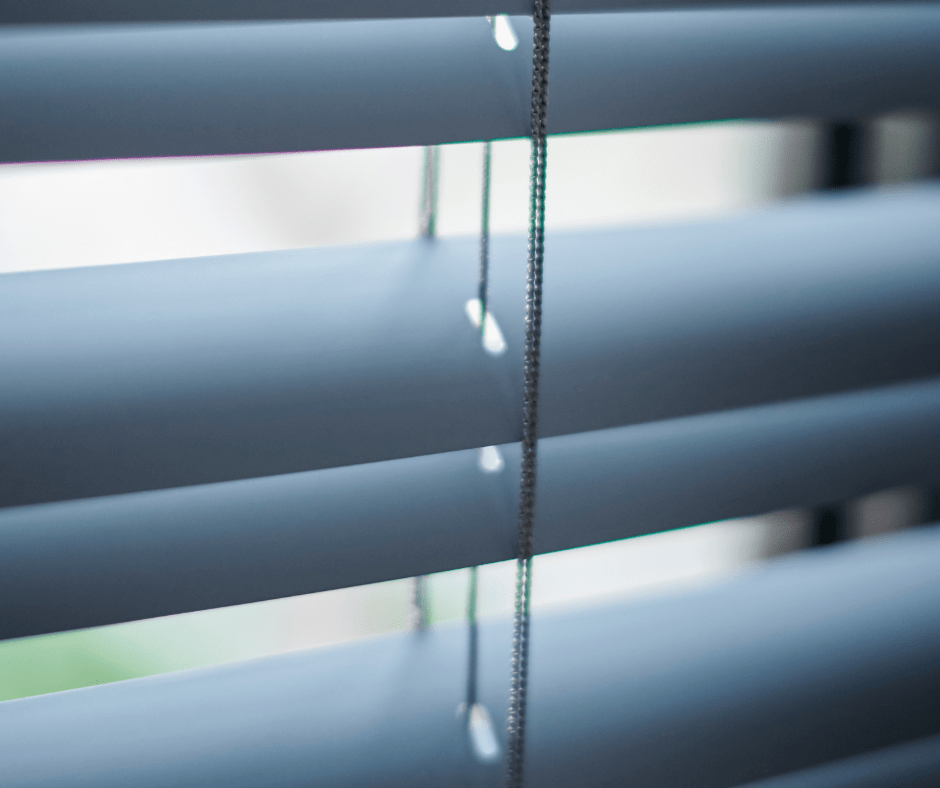 Megaview®
The Megaview® shutter is made of the widest lamellas, which are 50mm. Thanks to the use of special components, the stroke between the slats is 84 mm (in a standard 50 mm aluminum shutter it is 44 mm). With the slats open, this difference gives the impression of a 'double view', while when closed, it provides us with complete privacy. Perfect for large windows, especially in homes or offices.
Control
Megaview® blind is available in multiple versions options:
– Cords
The blind is pulled up and lowered with the use of polyester strings, which as standard pass through the string lock located in the upper rail (the so-called lock). By pulling the string towards the center of the blind, you can raise or lower the blind at the desired height. Two strings wound on the gears, located in the upper rail, control the position of the slats – by pulling the strings in one or the other direction, we regulate the opening or closing angle of the slats.
– Cord and wand
The blind is manually lifted up and lowerd down by polyester strings, which are passing throug the cord lock that is located in the headrail. Moving the cords slightly to the center of the blind we can raise and lower the blind. Moving the cord back in the opposite side we can lock the blind on the desired position.
Tilting and setting of the slats on a requested position is operated by wand, that is connected to a tilt gear.
Rails
The rails are made of profiled and painted steel, available in 6 colors: white, silver, black, beige, brown and anthrazite.
The headrail has a measurement of 51×57 mm (HxW)
The bottomrail has a measurement of 18×52 mm (HxW).
Slats
The slats ( widith 25mm, thickness 0,21mm ) are formed form an elastic high-quality aluminium, which is given a convex shape.
Feature of the blinds:
– double painted,
– resistant to scratches, hit and bending,
– lightfast,
– long-lasting colors,
– resistant to rust and non-electrostatic.
Textiles
The cords and ladders are made of 100% polyester, which are color-matched to the entire blind. The ladders are available in two versions: a thin rope ladder and a wide tape ladder (which is 24 mm wide).
Variants
Side guiding
Using the steel wire, coated with silicone, drawn on both sides of the blind and fixed to the ground with a special holders, we secure the blind.
Mixed colors
Every Customer can project his own blind by choosing different colors of rails, slas and textiles and within the same slats- various colors.
Measurements
Max. width 4000 mm
Max. height 3000 mm
Min. width 350 mm
Min. height 400 mm
Package sizes
Height of blind (cm): 100 150 200 250 300
Height of package (cm): 17 21 25,5 30 34
Company address
Przedsiębiorstwo Szwedzko-Polskie Alucolor Sp. z o.o.
ul. Grunwaldzka 6
84-230 Rumia
NIP: 5830007778
Opening hours
Office:
Mon-Fri 8:00 - 16:00
Shop:
Mon-Fri 8:00 - 16:00
Saturday 10:00 - 15:00