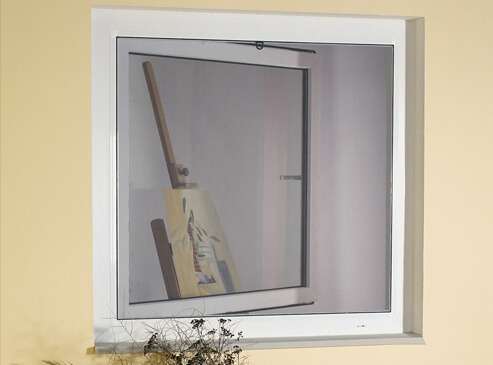 Mosquito nets
Produced by us mosquito nets are one of the most reliable systems to protect the house and the apartment from insects, dust and pollen plant. Mounted on the windows the mosquito nets in no way interfere with the systems of roller shutters and interior sun protection. Installation is simple, without disturbing the structure of the window. They are suitable for installation in all systems of windows, in no way restricting the air flow nor reducing the amount of daylight indoors. All elements of the frame are made of aluminum, making mosquito resistant to weather conditions, ensuring its durability for many years of use.
PROFILES
Profile wykonane z ekstrudowanego aluminium dostępne są w kolorach: białym, brązowym, srebrnym, antracytowym, szarym, złoty dąb, orzech, mahoń, winchester oraz dąb bagienny.
Warto nadmienić, że jeżeli powyższe kolory profili nie odpowiadają Państwa preferencjom można pomalować je na dowolnie wybrany kolor.
MATERIAŁ
Siatka wykonana jest z włókna szklanego standardowo w kolorze szarym lub czarnym.
MONTAŻ I UŻYTKOWANIE
Frame mosquito net
It is mounted in a simple way to the window frame with the help of non-invasive rotatable handles. The net frame has on its outer side a specially shaped collar which sealing the system makes it difficult for insects to penetrate inside the interior. This type of mosquito nets is ideal for windows opend only to ensure an air circulation. Mounted on spring will fulfill its role perfectly to late autum. After this time the mosquito net should be taken off, undergo maintance and store for next season. A big advantage of a frame mosquito net is the ability of quick and easy installation a nd uninstallation with a help of the rotatable handles.
Zalecamy żeby przy wyborze moskitiery koniecznie skonsultować się z profesjonalnym monterem, który prawidłowo określi typ okna i zmierzy je w odpowiedni sposób.
Sizes
Frame mosquito net
Max. width: 2000 mm
Max. height: 2000 mm
Max. recommended surface: 2,6 m2
Company address
Przedsiębiorstwo Szwedzko-Polskie Alucolor Sp. z o.o.
ul. Grunwaldzka 6
84-230 Rumia
NIP: 5830007778
Opening hours
Office:
Mon-Fri 8:00 - 16:00
Shop:
Mon-Fri 8:00 - 16:00
Saturday 10:00 - 15:00